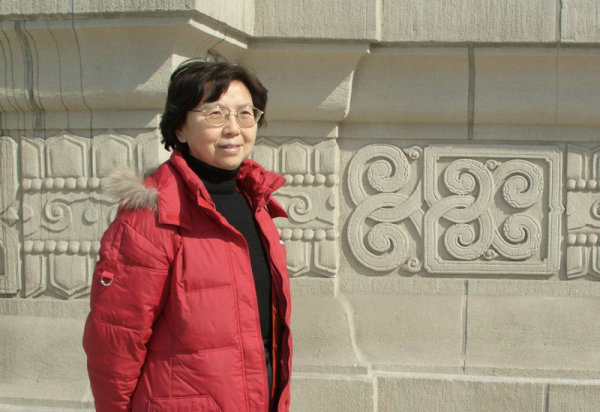 2.基本信息:
姓 名 唐玉恩
性 别 女
出生年月 1944年5月22日
工作单位 现代设计集团上海建筑设计研究院有限公司
职务职称 上海院总建筑师、现代集团资深总建筑师、教授级高级工程师
执业注册情况 一级注册建筑师
2. Profile
Name: TANG Yu'en
Gender: Female
Date of birth: May 22nd, 1944
Institution Affiliated: XIANDAI Design Group,Shanghai Institute of Architectural Design & Research Co., Ltd
Position/Title: Chief Architect of Shanghai Institute of Architectural Design & Research Co., Ltd, Senior Chief Architect of Xiandai Design Group, Professor of Engineering
3.教育和工作经历
教育背景:
1961年9月至1967年9月清华大学土建系建筑学专业学习,(六年制)本科毕业。
1978年9月至1981年9月同济大学建筑系建筑学专业研究生(三年制),获硕士学位。
工作经历:
1968年至1978年江西省新余钢铁厂、江西省建筑设计院工作。
1978年9月至1981年8月同济大学建筑系研究生,硕士学位。
1981年9月至今在上海建筑设计研究院有限公司工作,1999年任院总建筑师至今、全国工程勘察设计大师、现代集团资深总建筑师。
主要工程设计名单和获奖情况
上海图书馆 1999年全国第八届优秀工程设计金奖、1998年建设部优秀设计一等奖等
复旦大学逸夫楼 1992年上海市优秀设计一等奖
金茂三亚度假大酒店 2007年上海市优秀设计一等奖
绍兴博物馆 2011年浙江省优秀设计一等奖
柏树大厦 1993年上海市优秀设计二等奖
连云港财政干部培训中心 1995年上海市优秀设计奖二等奖
上海现代建筑设计大厦 2001年全国第十届优秀工程设计铜奖、2001年建设部优秀设计奖二等奖等
浦东新区少年宫图书馆 2001年获上海市优秀设计二等奖
上海罗店美兰湖国际会议中心 2005年获上海市优秀设计二等奖
浙江台州国际大酒店 2007年获上海市优秀设计二等奖
海事大学图文信息中心 2009年获建设部优秀设计三等奖、上海市优秀设计二等奖
上海虹桥新世纪大厦(合作设计)1999年新中国50年上海经典建筑银奖
等
主要论文和著作
《旅馆建筑设计》 (中国建筑工业出版社1993年10月第一版)
《共同的遗产》 (中国建筑工业出版社2009年10月第一版)
《继承、发展、探索》 (上海科技出版社 2003年5月第一版)
"高层建筑外部空间设计之我见" (《建筑师》1985年第24期)
"图书馆建筑与空间的多样化趋势" (《建筑学报》2011年第1期)
"高效、灵活、环境——现代图书馆建筑设计浅谈"
(《建筑学报》1997年第8期)
"上海图书馆新馆" (《建筑学报》1997年第5期)
"从抵制、回避到正视再创造——对上海近代建筑的粗浅认识"
(《建筑学报》1989年第7期)
"难舍的外滩情结" (《建筑学报》2001年第2期)
"2010日本历史建筑考察报告" (《建筑创作》2011年第3期)
"上海和平饭店保护与扩建" (《建筑学报》2011年第5期)
2. Education Background & Work Experience
Education Background:
Sep. 1961 – Sep. 1967, Bachelor Degree in Architecture (6-Year Program), Department of Civil Engineering & Architecture, Tsinghua University
Sep. 1978 – Sep. 1981, Master Degree in Architecture (3-Year Program), Architecture Department, Tongji University
Work Experience:
1968 – 1978, working for Xinyu Iron & Steel Co.,Ltd in Jiangxi Province and Jiangxi Provincial Architectural Design Institute.
Sep. 1978 – Aug. 1981, studying for her master degree in Architecture Department, Tongji University.
Sep, 1981 – now, working for Shanghai Institute of Architectural Design & Research Co., Ltd; assumed the position of chief architect of the institute since 1999 & national engineering exploration & design master and senior chief architect of XiandaiDesign Group.
Main Engineering Designs & Awards
Shanghai Library – 8th National Excellent Engineering Designs, Gold Award, 1999 & Excellent Design Award by Ministry of Construction, First Prize, 1998
Yifu Building, Fudan University – Shanghai Excellent Design Award, First Prize, 1992
Jinmao Sanya Grand Holiday Hotel – Shanghai Excellent Design Award, First Prize, 2007
Shaoxing Museum – Zhejiang Provincial Excellent Design Award, First Prize, 2011
Cypress Building – Shanghai Excellent Design Award, Second Prize, 1993
Lianyungang Financial Leaders' Training Center – Shanghai Excellent Design Award, Second Prize, 1995
Shanghai Modern Architecture Design Building – 10th National Excellent Design Award, Bronze Prize, 2001 & Excellent Design Award by Ministry of Construction, Second Prize, 2001
Children's Palace and Library in Pudong New Area– Shanghai Excellent Design Award, Second Prize, 2001
Lake Meilan International Convention Center, Luodian, Shanghai – Shanghai Excellent Design Award, Second Prize, 2005
Taizhou International Hotel, Zhejiang – Shanghai Excellent Design Award, Second Prize, 2007
Information Center of Shanghai Maritime University – Excellent Designs Award by Ministry of Construction, Third Prize, 2009 & Shanghai Excellent Design Award, Second Prize, 2009
Shanghai Hongqiao New Century Mansion (as co-designer) – Shanghai Classic Buildings in 50 years since foundation of the PRC , Silver Prize, 1999
Main Papers and Books
Hotel Architectural Design (China Architecture & Building Press, 1993)
Historical Bilding Conservation in Shanghai (China Architecture & Building Press, 2009)
Inherit, Develop and Explore (Shanghai Science & Technology Press, 2003)
My Opinion on Skyscraper Outer Space Design (Architects, journal, issue 24, 1985)
Trend of Diversification of Library Architecture and Space (Architectural Journal, issue 1, 2011)
High Efficiency, Flexibility & Environment – Brief View on Modern Library Architecture Design (Architectural Journal, issue 8, 1997)
Shanghai Library (New) (Architectural Journal, issue 5, 1997)
From Rejection, Avoidance, Facing-up to Recreation – My Humble Opinion on Shanghai Modern Architecture (Architectural Journal, issue 7, 1989)
The HUANG PU BUND Complex Hardly to Be Parted with (Architectural Journal, issue 2, 2011)
Investigation Report 2010 on Japan's Historical Architectures (Architectural Creation, journal, issue 3, 2011)
Conservation and Extension of the Peace Hotel of Shanghai (Architectural Journal, issue 5, 2011)
4.个人建筑理论、设计创新、创作心得等
在建筑创作中,坚持尊重人文环境与地域文化,力求让建筑植根本土,有长久的生命力。探索传承文化的创新之路,关注城市历史与环境,有创意地继承、创新,形成"尊重环境、传承文化、应用新理念新技术"的创作思想,及因地制宜、注重细部的创作特点。及应用现代技术创造所需空间,充分满足当代功能要求的设计技术。
在旅馆建筑创作中坚持地方文化特色、功能先进、环境舒适的设计理念,不仅造型新颖、功能合理,还强调在空间丰富、环境舒适的同时具有文化氛围。在工程实践中不断发展旅馆建筑设计理论。
优秀历史建筑承载着城市历史文化特色,结合调研与工程实践,坚持执行真实性、可识别性等原则,探索精心保护、创新可持续利用等设计技术。明晰"保护历史建筑、传承文化,在保护前提下修缮改造,使其为当代社会服务,可持续利用"的设计原则。
4. The Architect's Architectural Theory, Innovations & Thoughts on Creation
This architect incorporates her consistent respect to human environment and regional culture, and the pursuit of creating a building that takes roots and lives into her architectural creation. She will explore the history and environment of the city, and adopt them thoughtfully and build something creatively upon them. Her design demonstrates her respect to the environment, her willingness to spread the culture and her openness to new concepts and new techniques. And it is also adaptable to local conditions and specific with the details, and has acquired all modern technologies to create a space needed and fully functional according to today's standard.
This architect sticks to the idea of designing a hotel that features local culture, has advanced functions and cozy environment. Such hotel boasts not only its innovative styling and rational functions, but also its rich space, cozy environment and the cultural atmosphere. She has kept on developing her hotel design theories through her engineering practice.
Good historic architecture is a bear of the city's unique history and culture. Efforts shall be taken to explore design techniques that can preserve it carefully and maintain its sustainability creatively, by means of investigation and research combined with engineering practice, guided by principles such as authenticity and identifiability. The design work shall follow the principle of "preserving historic architecture, spreading the culture and restoring it under the premise of preservation, in order to make it useful to the modern society and sustainable".
5.个性化点评(选一)
学术造诣深厚,学风道德高尚,勤奋刻苦,严谨务实,开拓创新的工作作风和优秀个人风范影响着一大批青年建筑师。 (2011年院)
在做大型公共建筑设计中,以锲而不舍的精神,全面贯彻自己的创作思想,直到通过无数的建筑细部加以体现。 (2005年一记者文)
This architect is a great academic achiever and respectful teacher. She is diligent, hardworking, rigorous and pragmatic. Her innovative working style and excellent personality have generated positive influence on a lot of young engineers. ( 2011)
When she designs major public buildings, she will fully execute her idea with perseverance until such idea has been spoken by numerous architectural details.(2005)
6.代表作品介绍
(1)项目名称:上海图书馆
建设地点:上海淮海中路1555号
建设单位:上海图书馆
功能用途:大型公共图书馆
用地面积:31000m2
总建筑面积:84000m2
建筑高度,层数(地上/地下):84.5m ,24层/1层
设计时间:1986—1995年
竣工时间:1996年
建筑师: 张皆正唐玉恩居其宏
Project: Shanghai Library
Construction site: No.1555 Huai Hai Zhong Road, Shanghai
Construction unit: Shanghai Library
Function and purpose: Modern Large Public Library
Total building area: 84000m2
Design/completion year: 1986—1995/1996
Total building height and storey (overground/underground): 84.5m,(24 storey/1 storey)
Architect:Jie-zheng ZHANG Yu-en TANG qi-hong JU
上海图书馆是上海标志性文化建筑之一,创作具有现代化功能,反映上海特有的兼容中西的文化特色的图书馆。建筑造型新颖典雅,底层的毛石外墙,稳重厚实,顶部多维台阶组合,象征对知识的攀登。内外环境优雅。
功能布局紧凑、流线清晰。中部为入口大厅;西侧的中外文全开架阅览区环绕着高中庭;东侧在江南庭园周围为古藉、近代资料阅览室等;南向为大片花园,图书馆配置各类先进设备设施。
Shanghai Library is one of the cultural landmark buildings in Shanghai, is listed in the front rank in the world with over 13.2 million books and 3000 seating for reading. The design aims at creating an advanced library with modern functions, as well as the combined characteristics of Chinese and western cultures in Shanghai.
The Building has "Square of Knowledge" and "Square of Wisdom" at the main entrance and the west entrance respectively. Sloped landscape is provided along the road and a big garden is provided on south side. The whole environment is graceful and peaceful.
With a tight layout and clear flow, the central part of the building is a quite reading area. Over 20 big open-shelf reading rooms are arranged around the atrium at west side; reading rooms for ancient books, the materials of modern history and research studio are provided around a courtyard in a style of south of the lower reaches of Changjiang River at east side. People can enter the exhibition hall, the auditorium and audio-visual room through west lobby.
The form of the building is based on the culture of Shanghai City with rough stone external wall for the ground floor and multi-step combination on top, which representing the pursuit of the knowledge, it is novel, graceful and full of characteristics of Shanghai buildings
The facilities are of advanced international standards, and self-moving truck system is provided for vertical transportation.
(2)项目名称:绍兴博物馆
建设地点:绍兴市越王城
建设单位:绍兴城建环保项目办公室
功能用途:公共博物馆
总建筑面积:10000m2
建筑高度,层数(地上/地下):8.1m,1层/1层
设计时间:2007-2010年
竣工时间:2010年
合作设计:华汇工程设计集团有限公司(施工图设计)
建筑师: 唐玉恩 张皆正 徐一鸣
Project: Shaoxing Museum
Construction site: Yue Kingdom's City, Shaoxing City,Zhejiang Province
Construction unit: Shaoxing Urban Construction Environmental Protection Project Office
Function and purpose: Exhiition
Total building area: 10,000m2
Design/completion year: 2007/2010
Total building height and storey (overground/underground): 8.1m,(1 storey/1 storey)
Cooperative designer: Huahui Engineering Design Group Co., Ltd. (construction drawing design)
Architect:Yu-en TANG Jie-zheng ZHANG Yi-ming XU
绍兴博物馆位于绍兴市内有悠久历史的府山南麓越王城地区,创作立意半隐半现、与山共存,传承文化、修补被损山体。建筑依托府山优美的自然环境,依山势升高。其简约造型源于绍兴出土的春秋晚期伎乐铜屋,总体院落式布局,平面组合错落有序,平屋顶均作绿化。
体形简洁体现素雅的绍兴民居台门建筑风格,尺度与山体相辉映,筑三片厚实的毛石墙象征曾经的古城墙。全部外墙应用绍兴当地生产的"东湖石"石材,不仅具有浓郁地方特色并贯彻了低碳节能原则,建筑与空间体现时代精神和地域文化相结合。
Shaoxing Museum, located in Yue Kingdom's City at south foot of Fushan Mountain, Shaoxing City, enjoys the beautiful natural environment of Fushan Mountain and is raised up gradually along the mountainous terrain. Its simple shape is inspired by the famous and valuable cultural relic unearthed in Shaoxing. The museum adopts courtyard layout and comprises of four main functional areas, e.g. exhibition hall, cultural relic storehouse, report hall and offices. Its plane layout is regularly staggered to create different and clear profiles between internal and external spaces. These areas are connected through corridors and courtyards, showing local architectural style of Shaoxing and expressing the human-oriented design concept.
The simple geometrical volume of the museum harmonizes with the natural landscape on Fushan Mountain. Three thick and solid stone walls stretch out of the mountain, embodying the ancient city wall ever existing in history. With references to Taimen, a traditional architectural style in Shaoxing, all external walls are built with local "Donghu Lake Stone", top lighting and courtyard lighting are used as main lighting function. Time spirit and local cultural characteristics are infused into the building and spaces.